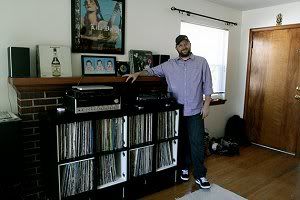 Vinyl Lovers is a monthly post that premiers the love individuals have for vinyl records. Each month, one special individual will be chosen to share their love with For Ear Sake by giving a glimpse of their collection, certain records they adore, and stories surrounding their love for the forgotten medium. Vinyl Lovers is not only for vinyl collectors with large collections, but for all individuals that own and love records. It's not about the amount of records you own, but the love you have for what you own. Hopefully this monthly post will inspire people on the verge of starting a record collection, and motivate those that collect to keep digging!
Everyone meet Taran. He's not only a record collector, but a father, a husband, a teacher, and he even runs his own
website
that focuses on music. I caught up with Taran after surfing the web and stumbling upon his
website
. He not only has a love for records, but he's very knowledgeable of the format as well. This West Coast (Bay Area) vinyl lover has been exposed to music since a young age, and he was kind enough to share his story with us.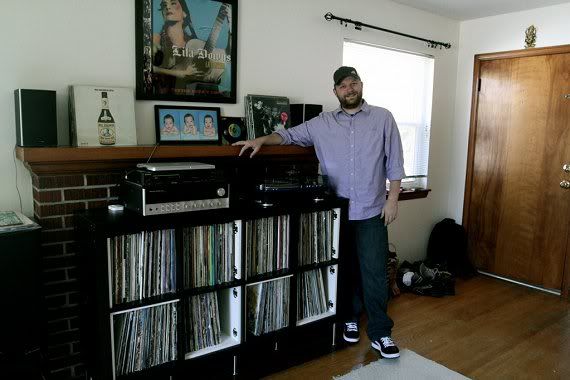 Music usually inspires people at a young age. How important was music in your life as a child?
I have been fortunate enough to be always surrounded by music lovers throughout my life. My father always played music from his record collection, which was small but proved to have strong imaginative currency. When he wasn't playing them himself I would sit on the floor and go through every one, spin it, and stare at the covers. I was raised on The Rolling Stones (all of my family are Stones geeks), The Doors, James Brown, Country Joe & The Fish, Janis Joplin, and Credence, to name a few. When I was about eight years old my father got one of the first CD players along with his first CD, "Waiting For The Sun" by The Doors. I remember dancing to it but when songs like "Not To Touch The Earth", "Unknown Soldier", and especially "My Wild Love", came on, I sat curled at the corner of the couch enthralled and overtaken by the strange sounds I was listening to. This is the first memory I have of music really having a strong effect on me. Needless to say, I went through an intense Doors phase that lasted into my teens.
Later, I had a babysitter who collected records and he introduced me to Led Zeppelin. Yes, he was the coolest babysitter ever as we spent our time listening to records, very loudly I might add. I was pretty much raised on the classics: Zep, Stones, Floyd, Hendrix, Dead, etc…
I also had different groups of friends that were into different music scenes, which enabled me to soak up a wide range of music styles. I hung out with people into the Cure, Stone Roses, Smiths; another group of people into Tool, Metallica, Black Sabbath; my immediate friends, though, were into Hip-Hop, Jazz, and anything that had a groove to it. We spent many hours just listening to my friend's father's record collection and playing dominos.
Jimi Hendrix really opened my world musically when I was 15. He became my center of musical discovery. After absorbing what he was about I really set about collecting as many sounds as I could. I have burned through many stereo receivers as I would keep them on 24/7. I would fall asleep recording the late night radio shows when they would play all the good music. Likewise, I had a small collection of VHS tapes containing recordings of MTV's 120 Minutes, the late-night show of music videos never played during normal hours, back when the M actually stood for music. I have continually searched for new music since my childhood.
I am a Miles Davis nut and am still trying to complete my collection of his albums. My initiation into the world of Miles Davis was through Bitches Brew at the age of 15. Needless to say, I didn't know what the hell was going into my ears and brain after listening to that album. It took me 5 years when I discovered the album Big Fun (holding), which is outtakes and sessions around the Bitches Brew period, before I could understand his electric period. I have been devouring everything Miles ever since.
When did you realize you had an interest for records, and what caused you to start collecting them?
Records had always just been around and my friends and I didn't think of them as some vintage retro type of thing. It was just how you listened to music. It wasn't until I was 19 or 20 that I wanted to have more Hendrix records knowing how good his music would sound on vinyl, plus there were a lot of posthumous collections only available on LP. So my collection started out being just a Hendrix collection. I did gain a few other artists from my friend's father who let go of some doubles including some John Mayall LPs.
It wasn't until I started working at a record store that I began really adding to my collection. This was the beginning of a Miles Davis phase so I beefed up on his albums while working there. I also had access to a lot vinyl pressed promos and limited edition type of stuff. I did, however, have to sell some of my collection back in order to save enough money to move and go back to school. My collecting took a hiatus at that point as I was moving a lot and didn't have the room or resources to keep moving and storing vinyl.
What was the first LP you purchased with your own money? Do you still own it? If so, what condition is it in?
My first LP I purchased on my own was actually a $1 record from the local library. I had to be seven or eight. It was Iron Butterfly's "Ball" and I think I was drawn to the cover, as I had no idea what it sounded like until I brought it home. I don't remember my first impressions of the music (other than I wasn't into the singers voice or phrasing), but looking back at it now it is a good album, though I am not a big IB fan. For all the heaviness contained in their albums they do have moments that have soulful simplicity and some great bass lines, just check out "Soul Experience" or "Butterfly Bleu"!
That album, however, didn't really start out my collection. I don't have it anymore and I'm not quite sure what happened to it. My first record that started my collection was a late 70s or early 80s issue of the Essential Jimi Hendrix from an antique store. Once I had all the Hendrix albums I gave it away to someone. I am not really into 'Best of' collections. If I'm really into an artist I would rather have all their albums.
Funkadelic "America Eats It's Young". A 1972 double-album put out by the P-Funk crew with probably the most overt social commentary in their canon. My favorite Funkadelic album by far but one I feel does not get enough recognition. This album shows how tight the band had become, which is immediately evident on the first song, "You It The Nail On The Head". Bernie Worrell really shines on this one as co-arranger and keyboardist, giving the album a slightly slicker sound compared to their last three. The lyric writing was getting much better by this point, also. "We are just biological speculation sitting here vibratin' and we don't know what we're vibratin' about."
How many records do you have within your collection?
I have roughly 600 albums at the moment and I add at least a handful of records a week. I add more of course if I have a full time job or I am selling enough vinyl. Most of my collection is from buying and trading with friends, other collectors and three main stores I frequent. My collection initially grew quickly as I loaded up on the essentials first; albums I just had to have on vinyl. When I was in college I didn't buy any vinyl as I lived where there were no record shops and I didn't have the room to store them. CDs were the pacifier at this stage, and when I did start to collect again I started by replacing my CDs with must haves. I'm still working on locating some of those must-haves, but my curiosity has led me all over the musical map.
What do you consider to be the best characteristic of your collection?
Hmmm… Well, I try to keep only what I know I will listen to. I don't collect so I can just say I have something. So, I feel my collection does a good job of representing my musical taste. I love music in general and listen to anything that moves me, regardless of genre or style. I try to have a little bit of this and that from every corner of the musical world.
Where do you like to shop for LPs, and why? (record shops, flea markets, garage sales, the internet, etc)
All of the above and anywhere the opportunity presents itself. I have a few choice shops I frequent here in the Bay Area. I hit the flea markets, record shows, estate sales, and I get personal leads to individuals selling their collections. I do use the Internet and eBay, usually more for informational purposes, or if there is something in particular I am looking for and I know I'll never find it locally. My favorite places to buy vinyl are the smaller outfits that listen and talk music with you. I hardly ever step foot in the big stores, only when I need a new release or have a gift card.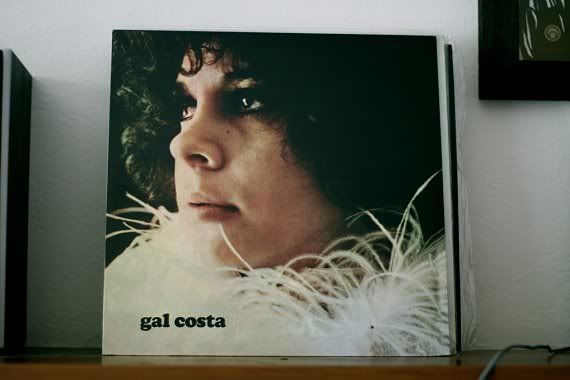 Gal Costa "Self-Titled" (1969). One of my favorite Brazilian records, mainly because it has a little of everything on here that I believe represents the transition that popular Brazilian music was going through at the time. This record balances some slow gorgeous tunes with more outrageous fuzz-guitar, yowling vocal, experimental pop. It's a great record to start your Tropicalia movement investigations with. Check out the song "Sebastiana" (
click here
).
Have you ever traveled in search of records? If so, how far have you ventured off to?
This is something I have wanted to do more of but I have not traveled very far in search for records. The farthest is probably 300 miles away down the Central Coast. Some places I would love to go, New York, Seattle, Portland, LA, and Texas!
What's your strategy while shopping or searching for records? (Do you look for specific genres/artists/labels, do you purchase albums on a whim, etc)
It depends, but I am usually looking at everything as I dig. I usually hit the Funk/Soul section first, International, Jazz, and then 45s or any other section. If I am looking in Jazz, I often check who the musicians are on the sessions, and which gives a good clue to the sound of the album, usually. Anyone that digs often enough will start to notice little clues, especially from just the graphic design of the album cover. I do sometimes buy albums on a whim, but I usually listen to everything I buy before hand.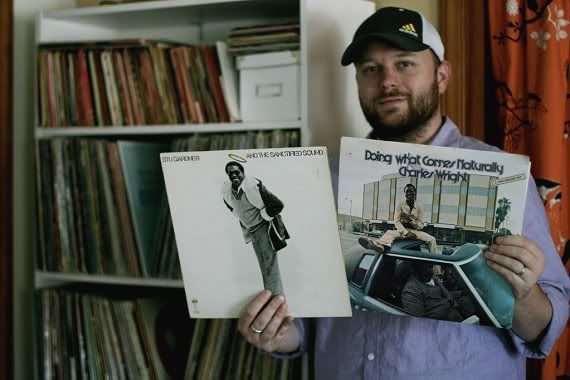 Stu Gardner's "Sanctified Sound" and Charles Wright's "Doing What Comes Naturally". Coming out within a year of each other and both involving Charles Wright. Stu Gardner was discovered by Bill Cosby and given the chance to record this album with his backup band, adding Charles Wright on guitar and arrangements, who does some of his best guitar work. A very solid Soul/Funk album that has a great warmth and down-home vibe. Wright's "Doing What Comes Naturally" is, in my opinion, his masterpiece. A double album of catchy tunes, long jams, and exercises in "subtle funk". Found this one still sealed. Always a trip to open something that is brand new from 1973! Check out Stu Gardner's "Sister Matilda" (
click here
).
You explained that both you and your wife love to dig for records together (which might be a dream for many record collectors). Has records brought you two closer together? Also, what are the pros and cons of digging with your significant other?
Yes, it is a collectors dream and she is well aware of that! I think records have provided another interest for us to connect with together. She wasn't a diehard music lover when we met (until she heard her college jazz band do a rendition of Mingus' II B.S. She came home with a new ear, so to speak) but discovering vinyl has rekindled her love for music from her childhood and, of course, along the way she has found her own niche of newly discovered gems. She is a big fan of "old-timey" music such as Ma Rainey, King Oliver, Robert Johnson, Fred McDowell, and early Billie.
The pro of digging together is that she provides an extra pair of eyes and hands and I likewise for her, as we both know what we tend to look for. The only con I can think of is that my budget is a little tighter than when I'm by myself. In other words, don't go on a shopping spree with your accountant!
Do both you and your wife collectively share a record collection, or are they separate?
After my collection got bigger she keeps her separate now so she can find her LPs easier. We don't always agree who found what and where it should be shelved, but they're in the same house so it's not anything too crazy. I make compromises in order to keep certain ones with me. I let her keep the Tribe Called Quest so I can keep the Pharcyde.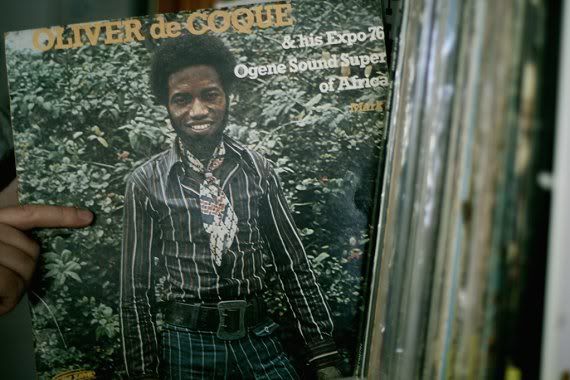 Oliver De Coque & His Expo '76 "Ogene Sound Super of Africa". This is my great dollar find, which was found at a library sale. Original pressing and pretty much mint vinyl. Oliver popularised a form of Nigerian Highlife called Ogene and has 73 albums credited to him. His music is known for being bright, uplifting, and energetic or, as he says "I do not like people to sleep where I am playing. I put people on the floor to dance when I play." Of course, I don't know what African music, especially Highlife, could put anybody to sleep! Check out this track (
click here
).
Records seem to play a major role in your life. Your website Fat Headphones not only broadcasts your love for vinyl, but you also sell vinyl within your website as well. When did you realize you wanted to sell vinyl records? Also, what goals do you wish to accomplish from selling records?
My goal in the next 10 years is to open a brick and mortar record shop, but I initially started selling records online to fund my own habit. At the moment my main goal is to not have to dip into my regular budget and be able to buy records for myself solely off my profits from Fat Headphones. It's harder than you would think but I don't only sell online. I sell to individuals, stores, and trade for titles with other dealers and collectors. I prefer to sell in person than online but with a full time job and family it is not always possible, and the online marketplace offers dudes like me the opportunity to sell, converse, and share new sounds with anybody around the globe.
The new digital wave has taken over everything in its path. As not only a vinyl collector, but a seller as well, how do you feel about the digital format?
It took me a long time to warm up to the digital format, but when I realized how much music you could carry around with you and store on your hard drive I became a fan purely from an ultilirian stand point. I still think that the digital format will never compete with vinyl. Even if its 320 or FLAC I still find a harshness in the treble and new music recorded digitally is 'heavy' sounding in the mid ranges. Vinyl simply breathes. I would love to see a strong resurgence in analog recording from artists and musicians.
However, I'm pushin' 250 gigs of digital music right now (mostly AAC quality) because I want all the music I can get my ears to hear, and digital music offers a very easy way of accumulating sounds.
The way I see it is that vinyl is king when it comes to sound. Vinyl should be the first medium in which everyone engages with recorded music. Then, CDs are there to share music, specifically mixes. I am still always burning cds and receiving burned cds, even though you can't actually buy a proper cd player for your home anymore. Lastly, digital music offers portability. My iPod goes everywhere and it provides me with a soundtrack where there are no turntables. I think all three formats should coexist. It would be nice if artists and bands would sell their albums as a vinyl/cd/mp3 download package: vinyl for home, cd for car, and mp3 for takin' on the run!
Afro Funk "Body Music". Don't know much about this rare one except that it is some righteous Funk-Rock out of Ghana. Solid beats, rock inspired guitar solos, funky organ work, and some phased-out vocals on a couple of tracks! It doesn't get much better than this! Check out the song "Farewell to Ibusa" (
click here
).
Despite the decrease of album sales, and an increase of illegal downloads, do you feel as though vinyl records will survive through the trying times of music? Why?
Vinyl records aren't going anywhere. I don't think they will ever be at the top again but they're definitely not going anywhere. There will also be groups of people looking for that music-listening ritual that vinyl provides. Plus, I think people forget that digital music relies on its own very infrastructure to exist and allow you to enjoy the pleasure of it in your own home. We speak of the ease and convenience of digital music, but if you think about it you'll need a computer, digital music player, speakers or boom box, and/or some type of contraption to listen to it your car if you don't have an aux input. You'll also need an external hard drive to back up your digital files. Let's not forget the $60 a month for the internet connection so you can have the "ease" of listening to low quality digital music through inadequate speakers. We can go a step further and mention all the servers, miles of cables, and so on, but you probably get the idea. Why this is progress from vinyl I will never know.
There is something to be said of enjoying and even reveling in the "process" of things, rather than only being concerned with the outcome. I feel my generation is one of the last to truly enjoy this, as the younger generations have been raised on instant gratification. I think that younger people who discover vinyl stumble across a ritual in which the process from musician to listener is celebrated. Similar to the 'slow-food' movement, listening to vinyl makes you slow down and invest your time in appreciating music. There will always be people out there that want more from their listening experience.
"Eddie Fisher & The Next One Hundred Years". Fisher was an amazing guitarist who unleashed a fury of Soul-Jazz-Funk guitar inventiveness, filling the nooks and crannies within the pocket-grooves laid down by a nameless band. He seems to have an endless amount of ways to turn a phrase, turning guitar licks inside-out and back onto themselves. I don't how I lived without this record for so long. Highly recommended, as is his next one, The Third Cup. You can find reissues of these as original copies can be quite steep in price. Check out the song "Either Or" (
click here
).
This question may seem to be a no brainer for anyone that appreciates vinyl, but I'm sure this question would benefit individuals on the fence for records. Why vinyl? What is it that makes you continue to support vinyl over other formats of music?
Vinyl is perfect because it is not perfect, or at least it doesn't try to be. When things are too perfect they become isolated, stagnant, stale, and devoid of meaning, or, in other words, they have no relationship with the real world. Vinyl is the closest representation of the original music being played. It is a physical translation of sound and therefore offers the best listening experience for human ears.
The thing about collecting records is that there are so many different aspects of the LP that grab your attention and engage the imagination. The unquenchable lure of the LP is that it is the whole package; design, liner notes, the physicality and sonic clarity. Everything that the artist had to put into their vision you are holding in your hand. Today, the whole concept of an artist's vision is spread across the internet with videos, exclusive downloads, or social networks, which is fun and great, but there is something to be said of putting all you have into one product.
I support vinyl because that is the way I want to hear music. When Bob Marley transitions from 'War' into 'No More Trouble' it sends shivers down my spine and vinyl is the only way to experience that.
Lastly, what advice would you give to individuals looking to start a record collection, or those with a small collection?
Collect what you want to listen to. Don't grab something just because it is a "holy grail". Dig for what you dig. Take care of your records!!! They should be passed on or down so other music lovers can enjoy them for as long as we got the juice to spin them.
I want to personally thank Taran for providing a great edition to the Vinyl Lovers project. Not only did he provide us with a great read, but he also went above and beyond and provided a nice lengthy mix to go alongside this Vinyl Lovers post. The mix can be found on Divshare (
click here
). Also, be sure to check out his website (
click here
).